Services:Emerald Ash Borer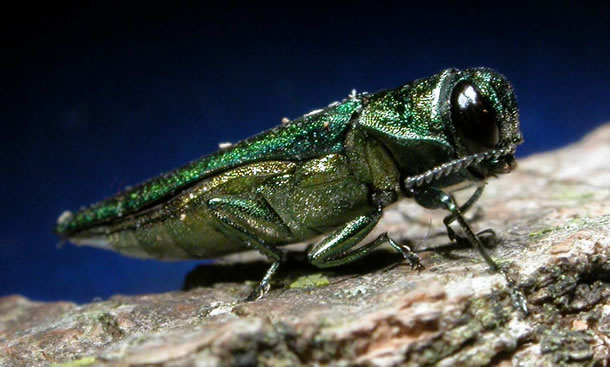 Check out our services:
---
Emerald Ash Borer Information:
Links
Colorado Dept. Of Ag EAB Info:  http://www.colorado.gov/cs/Satellite/ag_Plants/CBON/1251646251641
CSU Publication: http://www.ext.colostate.edu/pubs/insect/Emerald_borer.pdf

Insecticide for EAB: http://www.emeraldashborer.info/files/Multistate_EAB_Insecticide_Fact_Sheet.pdf
How to identify EAB:  http://www.emeraldashborer.info/identifyeab.cfm#sthash.VMjTvuM9.dpbs
Identifying ash Trees:  http://www.emeraldashborer.info/identifyashtree.cfm#sthash.AMsNTzTf.dpbs
Emerald Ash Borer  Back Round Information:

Emerald ash borer (EAB), Agrilus planipennis Fairmaire, is an exotic beetle that was discovered in southeastern Michigan near Detroit in the summer of 2002. The adult beetles nibble on ash foliage but cause little damage. The larvae (the immature stage) feed on the inner bark of ash trees, disrupting the tree's ability to transport water and nutrients.
Emerald ash borer arrived in the United States on solid wood packing material carried in cargo ships or airplanes originating in its native Asia. Emerald ash borer is also established in Windsor, Ontario, was found in Ohio in 2003, northern Indiana in 2004, northern Illinois and Maryland in 2006, western Pennsylvania and West Virginia in 2007, Wisconsin, Missouri and Virginia in the summer of 2008, Minnesota, New York, Kentucky in the spring of 2009, Iowa in the spring of 2010, Tennessee in the summer of 2010, Connecticut, Kansas, and Massachusetts in the summer of 2012, New Hampshire in the spring of 2013, North Carolina and Georgia in the summer of 2013, and Colorado in the fall of 2013.
Since its discovery, EAB has killed tens of millions of ash trees in southeastern Michigan alone,with tens of millions more lost in Colorado, Connecticut, Georgia, Illinois, Indiana, Iowa, Kansas, Kentucky, Massachusetts, Maryland, Minnesota, Missouri, New Hampshire, New York, North Carolina, Ohio, Ontario, Pennsylvania, Tennessee, Quebec, Virginia, West Virginia, and Wisconsin.
EAB continues to cost municipalities, property owners, nursery operators and forest products industries  millions of dollars. EAB is considered the most destructive forest pest ever seen in North America. It is responsible for killing more than 50 million ash trees in over 20 states. Just in the Denver area alone, there are 1.45 million ash trees at risk. If you have an ash tree, there are preventative measures you can take. Let Coloarado Tree Specialists Help take care of your Ash Trees
Mountain Pine Beetle is responsible for devastating much of our Colorado mountain forests. Many experts believe the Emerald Ash Borer will be as devistating to our urban colorado forests, with an estimated one in five trees being ash. It was not a surprise when EAB was found in Boulder, CO. According to the Colorado Department of Agriculture, this green metallic beetle was found by Boulder forestry staff Monday September 23rd, 2013.
WHAT DO I DO IF I AM WITHIN 15 MILES OF INFESTATION?
1.Determine how many ash trees are on your property and decide which of them are healthy enough and important enough to your landscape to protect with pesticides.
2.Determine which of the unhealthy ash trees should be immediately removed or whether it can safely left in position; ash trees become hazardous when they die and fall down easily.
3.Begin to remove ash trees that are in poor shape for any reason; they are seldom good candidates for treatment with pesticides. You can begin with the ash trees that pose the biggest hazards and spread removal over time. It is always best to hire professionals to remove trees.
4.Intersperse new kinds of trees (not ash trees!) among the untreated ash trees so they will have time to grow before EAB arrives and the ash is lost.
5.Begin treating valuable, healthy ash trees with pesticides.
6.Contact Colorado Tree Specialists the  professional tree care company to help you make these decisions.
To mitigate the damage to your ash trees, We are strongly advises homeowners and property managers: Consult an expert, to verify ash trees on your property, evaluate the trees for infestation and treat your trees with systemic insecticides and proper trimming.
Do not plant new ash trees.
Good substitutes for ash include honeylocusts, hackberrys, oaks, aspens, maples and elms. Do not move firewood made from ash trees out of the area.Prune dead branches, Dead branches weaken the tree by keeping the Borer on the tree and in your  property.
An unhealthy tree is less likely to survive an Emerald Ash Borer attack. Damage to the tree increases where there is Woodpecker activity, as they try to eat the larvae in the tree. Be sure Trimming is done early in spring or in the beginning of fall. As we move deeper into Fall,  dead branches on trees become a risk of cracking and falling off the tree. Dead branches are more likly to be a hazard if we experience early winter storms on Colorado's Front Range.
Additional recommendations  include Deep Root Fertilization and ash borer and ash bark beetle spray.
Trunk injection should be completed in the spring of 2014, within a 15-mile radius of any detected emerald ash borer infestation. in 2014 the Areas included are in Boulder, Broomfield, Lyons, Longmont, Lafayette, Niwot, Erie ,Nederland, Superior and Westminster. Soil injection are a less costly Systemic insecticide to be completed in the spring and autumn.Additional recommendations may include tree fertilization and ash borer or ash bark beetle spray.
Identifying your Ash Tree and EAB:
Ash trees are identifiable by compound leaves with five to eleven leaflets and branches and buds in pairs directly across from each other (opposite branching).
The bark of mature ash trees has diamond-shaped ridges.
Initial detection of Emerald Ash Borer in ash trees is difficult.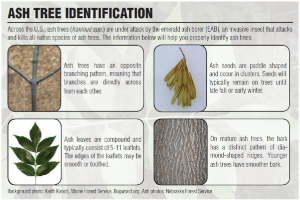 Signs of infestation include:
Canopy dieback beginning at the top of the tree progressing downward until the trees food supply is eaten by the EAB Larvae.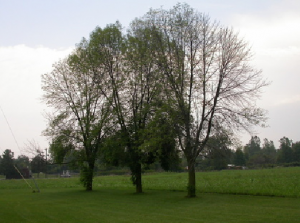 "S"-shapedgalleries underneath Bark will be able to be seen once bark splits from infestation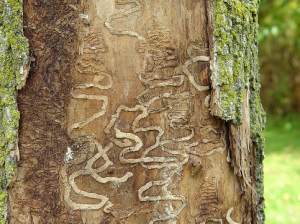 Adult beetles leave a "D"-shaped exit hole in the bark, roughly 1/8 inch in diameter,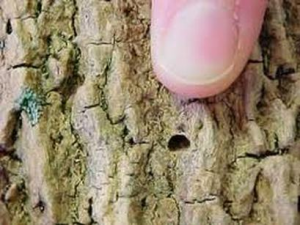 In later stages of infestations, ash trees may form sprouts from the trunk and roots.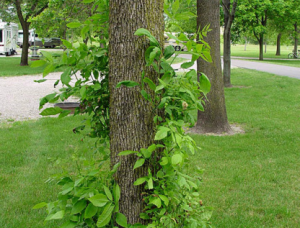 Trees typically are killed in two to four years. When trees are first attacked by EABs, the symptoms are inconspicuous and hard to notice. By the end of the second year, thinning foliage and dieback in the crown begins to be apparent. By the third year, there is severe dieback and little foliage. Ash can tolerate small numbers of EAB larvae but trees are girdled and killed when populations become more numerous. Since borers infest the upper branches of the tree, the "D"-shaped holes cannot be seen from the ground until the tree is severely infested.
FAQ:
How big of problem is EAB?
EAB is considered the most destructive forest pest ever seen in North America. In the Denver area, there are 1.45 million ash trees at risk.
How do I know if I have an Ash tree?
We recommend Colorado Tree Specialists evaluate you property to verify your ash tree inventory. However, ash trees have:1. Compound leaves with 5 to 11 leaflets2. Branches and buds are in pairs directly across from each other (opposite branching)3. Mature bark has diamond-shaped ridges
How do I know if my tree is infested with emerald ash borer?
Initial detection is not easy. It may take 4-5 years for the canopy of an infested ash to thin and decline. Since borers infest the upper branches of the tree, the "D"-shaped holes cannot be seen from the ground until the tree is severely infested. We recommend you have your trees evaluated and preform preventive treatments on your ash trees.
Are there treatment options to protect my ash tree?
Yes there are treatments for  uninfected trees and infected and.  It is common practice with in 15 miles of a detected emerald ash borer infestation, to treat your trees with a trunk injection completed which is best if completed in the spring. Includes zip codes:80005, 80007, 80020, 80021, 80025, 80026, 80027, 80028, 80038, 80301, 80302, 80303, 80304, 80306, 80307, 80308, 80309, 80310, 80314, 80321, 80322, 80323, 80328, 80329, 80403, 80455, 80466, 80471, 80481, 80501, 80502, 80503, 80533, 80540, 80544
Includes Boulder, Lyons, Longmont, Niwot, Erie, Lafayette, Superior, Broomfield, Westminster, Nederland2. Outside of the 15 mile detection area, we are recommending a soil injection to be completed this fall. We will recommend a soil injection beginning in the spring.
EAB has caused regulatory agencies and the USDA to enforce quarantines and fines to prevent potentially infested ash trees, logs or hardwood firewood from moving out of areas where EAB occurs.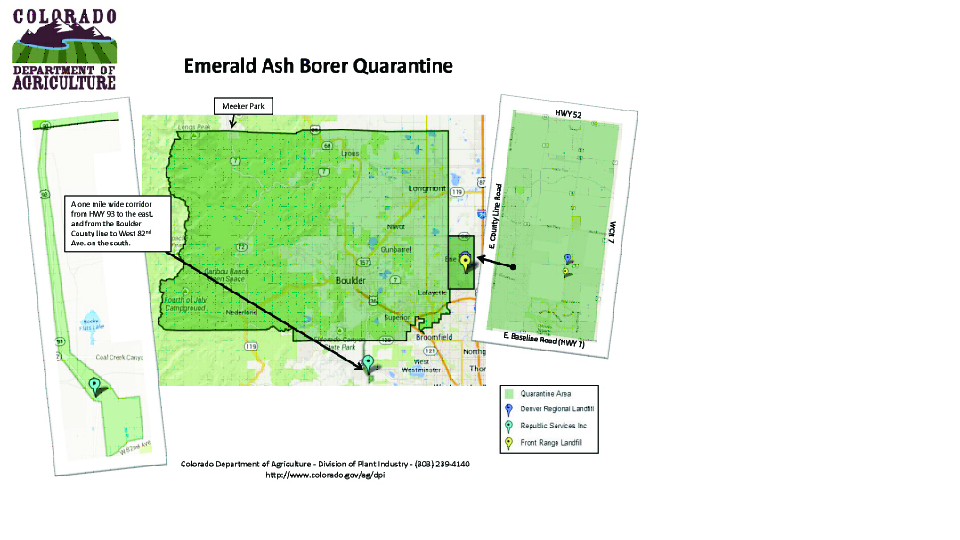 Where did the emerald ash borer come from?
Emerald ash borer (Agrilus planipennis), was introduced accidently into Michigan in wood packing material imported from eastern Asia sometime in the 1990's. It became well established in Michigan until ash trees started dying in 2002, when it was first detected. It is responsible for the deaths of millions of ash trees in the Midwest and eastern U.S.
What type of trees does the emerald ash borer attack?
All species of the North American ash (Fraxinus sp.) are susceptible. Mountain ash (Sorbus sp.) are NOT susceptible.
You can count on a professionally Completed job the first time with Colorado Tree Specialists. As a locally owned and operated business we are small enough to care but large enough to complete any job.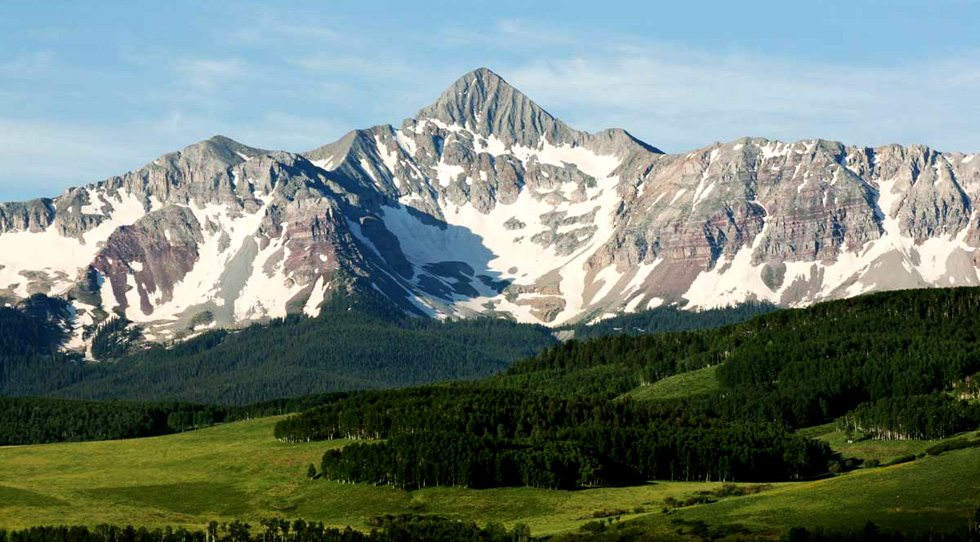 Contact us if you are interested in protecting your trees this summer from Emerald Ash Borer, Mountain Pine Beetle or other insect and disease related pests.
We are currently scheduling spring 2014 consultations.
What Does a Consultation Involve?
---
If you are concerned about the health of your forest or trees from insect infestation, we will be glad to schedule a face to face consultation at your property. We will evaluate your property, inspect your trees and discuss current and future forest health concerns with you. These consultations are always free with no strings attached to help you identify what insect is Ailing your Trees.
Proper Application
---
Proper application and using the correct insecticide are the most important factors when treating your trees. The equipment used  in delivering the pesticides to the proper parts and heights of the trees is a major factor as well..  If you need your trees sprayed, Our sprayers are capable of reaching 80 feet effectively, ensuring your trees are properly protected. We strive to offer the best application techniques and products to treat and prevent insects affecting your trees. Preventive spraying or treatments should be completed on a yearly basis each spring until the threat of the insects are no longer present.
Costs
---
Pricing for Preventive Treatments is based on the number of trees and size of trees to be treated. We offer group discounts. Group participation also improves everyone's view in communities where views are shared among many different individuals.
The Mountain Pine Beetle (MPB) is currently the largest threat facing the western forests. These beetles have killed 3.6 million acres of trees stretching from New Mexico to to the Canada border plus millions of acres of forest in Canada. The Emerald Ash Borer has come to Colorado and this destructive pest will begin to significantly impact the urban Forest, Colorado Tree Specialists offers a full spectrum of defense against all Tree pests affecting our state. While not every tree can be saved, proper forest management through an Integrated Pest Management plan can help defend against all current Insect outbreaks. Prepare your property for future forest ailments.
2014 Current Infestation of EAB